Love Defies Time Teasers – November 2023Love Defies Time Teasers November 2023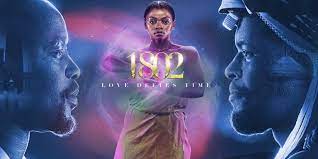 Wednesday 1 November 2023
Episode 81
For the Good of the Kingdom
The plague is claiming lives by the minute. Khosi has a solution to end the plague, but she needs to do something extreme to make it happen. Zuko makes a date to meet Mandla. Mthwakazi makes a shocking revelation.
---
Monday 6 November 2023
Episode 82
Unresolved Feelings
Melisizwe is shocked to learn that Longamo is planning to do a ritual to stop the disease instead of
giving his position as King. Zuko is caught out in his lie. Mthwakazi is relieved when MaMpinga changes her mind about her leaving.
Tuesday 7 November 2023
Episode 83
Khosi Returns to Present
Khosi and Melisizwe pray for her return to the modern world to retrieve the vaccines. Khosi's return interrupts a crucial celebration. Longamo's ritual goes badly wrong.
Wednesday 8 November 2023
Episode 84
Longamo Must Fall
Tempers are high as the villagers have had enough of Longamo and plan to dethrone him. Khosi ruins Athi and Zuko's wedding. Kumkani Jonginamba appears to a frail MamThembu in a dream. She sees it as a sign of her near death.
---
Monday 13 November 2023
Episode 85
Crisis Point
Time is running out for Khosi and MamThembu. The Tribal Council asks Longamo to step down, but he says he will solve the problems by marrying Khosi. Khosi asks Ayanda to check her baby.
Tuesday 14 November 2023
Episode 86
Retribution Time
After learning that Khosi has gone missing, Longamo finds out from Nomasomi that Khosi was seen. Longomo goes into the cave and he's not ready for what he discovers. Zuko believes Khosi's baby is his. The Princesses discover the real reason why Mthwakazi refuses to return to her Kingdom.
Wednesday 15 November 2023
Episode 87
Let Sleeping Dogs Lie
Longamo falls into a deep sleep while Mdizeni overhears a very crucial piece of information concerning the marriage of Mthwakazi and King Debeza. Khosi makes it clear to Nompumelelo that she will use any means necessary to get what she's come back to the present for.
---
Monday 20 November 2023
Episode 88
Melisiwe's Fear
The fate of the queen hangs in the balance as Melisizwe makes a desperate decision to confront the powerful and dangerous Mamlambo, while friends and allies grapple with their own conflicts and revelations. Khosi feels pain for Athi, Mdizeni is worried about what he has heard.
Tuesday 21 November 2023
Episode 89
Unlikely
Melisizwe cannot sit and watch his mother die. He takes Dungudela's advice and embarks on a very dangerous journey in order to save MaMthembu's life. The doctor delivers the bad news to Khosi and Zuko. Mdizeni is still haunted by what he overheard.
Wednesday 22 November 2023
Episode 90
To Kill a King
Melisizwe is still on a quest to save Mamthembu's life, but will Mamlambo's potion work? Zuko and Khosi suffer a devastating loss. Mdizeni helps get rid of Debeza's messengers.
---
Monday 27 November 2023
Episode 91
Retirbution Time
Mdizeni and Nomasomi's fear becomes a reality when the villagers want Melisizwe to be made King instead of Regent. Zuko asks Athi to come home with him when she leaves the hospital and Khosi steals medication from the storage room.
Tuesday 28 November 2023
Episode 92
Ghosts and Kings
Longamo is lost among the spirits, Khosi has what she needs to return to the village and the plot to murder the King is set in motion. Melisizwe takes his new role as Regent seriously.
Wednesday 29 November 2023
Episode 93
Thwarted
Mdizeni pulls a mat from under Dinga and his men and outsmarts them when they try to execute their plan to kill Longamo. Nompumelelo stumbles on Khosi's stash but her attempts to stop her from going back to the past seem to fail dismally. Longamo struggles to find his way out of the spirit world.
For More Love Defies Time Teasers  Episodes
Don't hesitate to follow & Like Us on Facebook
Episodes  Share to get  2023 Love Defies Time Teasers Latest Episodes.