Arendsvlei Teasers – May 2021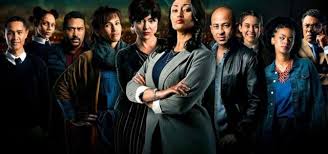 We (Zaupdates Team) pleased to keep you updated about Arendsvlei Teasers – May 2021
Monday 3 May 2021
Episode 125
Debra makes a shocking discovery about Wendy's secret life. Lee-Roy makes big plans for his performances with Lionel, while Janice appoints a new intern at the salon.
Tuesday 4 May 2021
Episode 126
Langes is grappling with the decision to tell Debra that he was involved with Wendy's criminal organization. Lee-Roy convinces Lionel to perform for a fundraising event, but then Janice finds out.
Wednesday 5 May 2021
Episode 127
Debra is broken by the truth. Caleb tells Janice about his parents. Keesha finds a solution for her math problems. Lionel realizes where his priorities are.
Thursday 6 May 2021
Episode 128
Krige is thrown when Janice tells him Caleb is her new intern. Debra wonders whether she should give Wendy a second chance. Keesha is discontented with something Ronel tells her. Everybody prepares enthusiastically for the night-school matric farewell.
---
Monday 10 May 2021
Episode 129
Debra and Langes prepare for the meeting with Wendy. Janice becomes suspicious of Krige and Caleb and Keesha have their first session with Thys.
Tuesday 11 May 2021
Episode 130
Krige has a big confession and Janice is left shocked. Mielies has had enough of Solly and Keesha is up to something.
Wednesday 12 May 2021
Episode 131
Langes wants to make a statement, but wonders if he will be sacrificing too much. Krige wrestles with his guilty conscience, while Debra wonders if she should tell Beatrice the whole truth.
Thursday 13 May 2021
Episode 132
Beatrice is furious about all the evil things Wendy has done but then decides to comfort Debra instead. Candice misunderstands when she sees Keesha and Thys together.
---
Monday 17 May 2021
Episode 133
Debra gets news that upsets her. Krige and Lionel have a heart to heart and Keesha is all dressed up for her tutoring session.
Tuesday 18 May 2021
Episode 134
Pieter is worried that Debra won't handle her dinner date with Wendy. Parra makes all kinds of unexpected demands towards Anton. Karelse is worried that Stretch and Rekkie will disappear and then not corroborate Langes' evidence.
Wednesday 19 May 2021
Episode 135
Karelsa has important information to share with Beatrice and Debra. Parra changes the bakery's menu. Caleb informs Beatrice that he won't be staying for long anymore.
Thursday 20 May 2021
Episode 136
Thys is under tremendous pressure to deal with the accusation. Caleb has come to a decision about his life in Arendsvlei. Is Wendy losing the plot as she makes big plans for her and a terrified Debra?
---
Monday 24 May 2021
Episode 137
The tension runs high while Debra and Karelse make plans against Wendy. Thys is devastated by the allegations against him, while Anton struggles to keep Parra reined in.
Tuesday 25 May 2021
Episode 138
Thys is trying to establish his innocence, but Janice needs to remain neutral. Candice has to assist with the operation to arrest Wendy but finds it difficult to go through with it.
Wednesday 26 May 2021
Episode 139
Something enormous happens to Wendy and the reality starts to sink in for everyone involved. The learners have different opinions about Keesha. Janice is surprised twice in one day.
Thursday 27 May 2021
Episode 140
Journalists of other publications pester Beatrice and Debra. Gertie has sleepless nights about Thys's huge problem. Wendy commands MJ to do something for her.
---
Monday 31 May 2021
Episode 141
Debra anxiously readies for the bail hearing. Thys is nervous about the SGB meeting and Keesha gets advice from Candice.
For More Arendsvlei Teasers Episodes
For more Arendsvlei Teasers  Episodes don't hesitate to follow &
Like Us on Facebook
, to get Arendsvlei Teasers 2021 Latest  Episodes.
Tags: Arendsvlei Teasers, Arendsvlei Teasers - May, Arendsvlei Teasers - May 2021