Bananas are extremely healthy and delicious. it's one of the most popular fruits worldwide. They contain essential nutrients that can have a protective impact on health.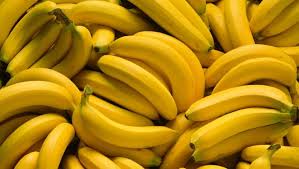 Bananas are a tasty and convenient source of some important nutrients. People have grown this tropical fruit since ancient times, and its health benefits have been promoted for more than a century.
Health benefits of Bananas
Bananas are loaded with valuable micronutrients, especially potassium. Potassium is one of the most important electrolytes in the body, helping to regulate heart function as well as fluid balance – a key factor in regulating blood pressure.
The effectiveness of potassium-rich foods such as bananas, in lowering blood pressure and protecting against heart disease and strokes is well accepted and bolstered by considerable scientific evidence.
Bananas are soothing to the gastrointestinal tract due to their high content of pectin – as soluble fibre that not only lowers cholesterol but normalises bowel function. The high fibre content of bananas promote satiety (feelings of fullness).
The resistant starch in bananas also has a prebiotic effect, helping to fuel the gut bacteria so they increase their production of short-chain fatty acids which are beneficial for digestive health.
Better Heart Health
Because they are rich in potassium, bananas help the body's circulatory system deliver oxygen to the brain.
Importance of Bananas
1. Help regulate blood pressure levels
Bananas are high in potassium and low in sodium, the fruit is officially recognized by the FDA as being able to lower blood pressure and protect against heart attack and stroke.
2. Feel Fuller
Resistant starch is a type of indigestible carb — found in unripe bananas and other foods which functions like soluble fiber in your body.
3. Helps Reduce Bad Cholesterol Levels
contain phytosterols, which are compounds that have LDL cholesterol-lowering effects according to a study in The Journal of Nutrition. Additionally, "Bananas contain Vitamin B6 which is important for nearly everything—heart health, immune health, digestive health, and nervous system function," says Bjork.
4. Improve Kidney Health
Potassium is essential for blood pressure control and healthy kidney function. As a good dietary source of potassium, bananas may be especially beneficial for maintaining healthy kidneys.
5. Reduce Depression 
Bananas help overcome depression due to high levels of tryptophan, which is converted into serotonin — the happy-mood brain neurotransmitter.
6. Banana support regular bowel movements
If you have kids, you likely already know this trick: The high fiber in bananas can help normalize bowel motility. With 3 grams of insoluble fiber, they help you push out waste better by making stools easier to pass. Bananas are binding for anyone with diarrhea, and they also contain probiotics that are essentially 'food' for the healthy microbes (probiotics) that live in our guts.
7. support good bone health
Although bananas don't contain a high amount of calcium—less that 1% of your daily recommended intake—they can help promote calcium uptake with the help of those prebiotic fructooligosaccharides.
8. smartness
Bananas make you smarter and help with learning by making you more alert. Eat a banana before an exam to benefit from the high levels of potassium.
9.  stabilize blood sugar
Eating a banana between meals helps stabilize blood sugar and reduce nausea from morning sickness.
10. Good Vision
Bananas contain vitamins A (1% DV) and C (17% DV), and "both are antioxidants and are eye and skin-healthy nutrients," says Smith. "They also have beta carotene, an antioxidant that can help to protect cells and repair damage at the cellular level.
11. Banana Help Burn Fats
Bananas have 12 mg of choline (3% DV), a fat-blasting B vitamin that acts directly on the genes that cause fat storage in the abdomen. (One reason heavy drinkers have bloated bellies is that alcohol depletes choline, causing weight gain around the liver.) You can also find it in lean meats, seafood, and collard greens.
12. Boost Body Energy
Bananas are rich in glucose, the most easily digestible source of sugar that will provide optimal energy for your run, power lift or Soul Cycle class. Eating one post workout helps to quickly replenish energy stores that are depleted during a tough sweat session.
Tags: Bananas: Importance and Benefits to the Body, Health benefits of Banana, Health benefits of Bananas, Importance of Bananas