RECENT UPDATES
Open Government Partnership Global Summit Youth Program 2022 for Global Youth Leaders (Fully-funded to Ottawa, Canada) Calling all youth in...
AFCAT 2023 Recruitment - AFCAT 1 & 2 Vacancies & Eligibility We pleased to inform you about, AFCAT 1 &...
Scholarships in India for international students are available at both undergraduate and postgraduate levels, covering various fields such as...
OpenIDEO Beyond the Bag Challenge 2020 (Up to $1 million in funding), how to Apply and Application Deadline OPPORTUNITY Applications are...
Canada is a popular destination for international students who seek higher education and research opportunities. However, financial barriers can...
OpenIDEO COVID-19 2020 Global South Health and Livelihoods Challenge Submit your idea for the OpenIDEO COVID-19 Global South Health and Livelihoods...
Deloitte One Young World Scholarship Program 2019 (Fully-funded to the OYW Summit in London, UK) Applications are open for Deloitte One...
Association of Commonwealth Universities (ACU) 2020/2021 Gender Grant Program (£1,000 grant), Requirements and Application Deadline. ACU Gender Grants are awarded annually...
Skoll MBA Scholarship in Social Entrepreneurship at the University of oxford's Saïd Business School2021/2022  (Fully Funded). The Skoll Scholarship provides full...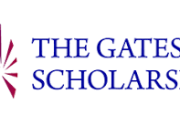 The Gates Scholarship 2024 is a fully funded undergraduate scholarship for American students. This scholarship covers tuition, fees, room,...
Young Water Fellowship Program 2019 for Young Leaders (Fully-funded) Deadline: March 24, 2019 The Young Water Fellowship 2019 is now open for applications. The...
YouthStartCT Entrepreneurial Challenge 2019 for Startups in South Africa Applications are invited for the YouthStartCT Entrepreneurial Challenge 2019. The YouthStartCT Challenge...
 Transnet Trainee Yard Opportunity 2022/2023 Application Portal, Requirements & Application Closing Date. Here on this Educative Page, We Provide you...
The UK government offers various visa sponsorship programs for individuals who want to work in the country, including jobs...
Goethe-Zentrum Kampala/UGCS Funding for Locally Based Projects 2019 Applications are open for the Goethe-Zentrum Kampala/UGCS Funding Program 2019. Goethe-Zentrum Kampala and...
Citizen Entrepreneurship Competition 2021 for Young people from around the world. The Citizen Entrepreneurship Competition (CEC) is a part of the...